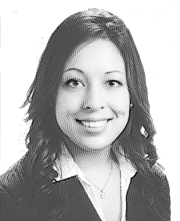 Jennifer L.

Arisman

:
Director of Communications
The Steele Group
jennifer.arisman@thesteelegroup.us
Jennifer Arisman is Director of Communications with responsibility for the comprehensive communication efforts of our organization; including community relations, crisis management, special events and media relations. Additionally, she manages multimedia applications and initiatives that support our social media efforts such as blogs, podcasts and RSS.
Jennifer is an accomplished journalist who writes for the Indianapolis Star and has also coordinated public relations initiatives for Boy Scouts of America and Prevail, Inc. As an emerging entrepreneur she has also created her own boutique firm known as Writers Block, where she channels her creative and professional writing, as well as photography for an emerging client base.
Jennifer is a graduate of the Indiana University School of Journalism in Indianapolis, Indiana, where she was active in the Public Relations Student Society of America.
In her free time Jennifer likes spending time with family and friends, traveling in the US and abroad, and continue experimenting with, and enhancing her photography skills.